Multi-award winning legendary actor and director David Carradine puts his musical talents on display when he and Soul Dogs take the stage.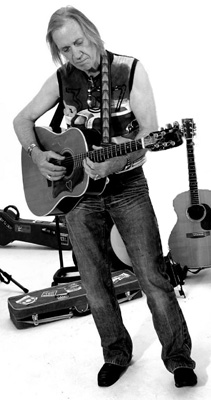 Though known primarily for his film and television roles, Carradine's musical background is extensive and diverse. In addition to majoring in music at San Francisco State College, he's fronted numerous bands and written movie scores. He has applied this experience to his acting, most notably in his portrayal of Woody Guthrie in Hal Ashby's classic movie "Bound for Glory."
David's "Cosmic Rescue Team" includes members of the band Soul Dogs. Soul Dogs' sound is pure Americana; a rhythmic synthesis of different flavors from Country-Rockin'-Blues to spacious ballads, spiced with classical overtones and psychedelic implications. The post-Dylan singer/songwriter lineage is well represented in this mix; songs like "And Then She Smiles," and "I Got No Right To Sing The Blues" use an easy bluesy style to present a reluctant optimism in the face of life's adversity. But "Wanderer" and "Now's The Time To Tell" just carry you away with their sophisticated harmonies and apocalyptic lyrics.
Carradine's self-proclaimed "inspired doggerel" approach to song writing is frequently autobiographical. His stories strike a common chord in all of us. As he says in one of his lyrics, he's "been around the block and back more than a couple of times." He has a lot to say: sometimes angry, mostly romantic, a lot of it very funny, always insightful. By looking inward, he reaches out to touch the primordial unconscious, the common human experience in all of us.
Previous incarnations of the Cosmic Rescue Team have featured a slew of musicians and exotic instruments. These shows however, offer a more standard lineup, with Carradine's soulful vocals backed up by his guitars, piano, harmonica, and a thrilling interlude with the bamboo flute, which he grew, harvested, cured and made himself. The band includes Sharon Benson on electric violin, guitar and vocals; Clynell Jackson III on bass; Leslie Daniel on drums and percussion; and Benjamin Lein on guitar. This combination creates a sound reminiscent of a more intimate period when musicians played wrap-around porches and underground saloons, and then surprises you by exploding into serious full-on Rock & Roll. This is American music. You can dance to it, trance to it, or just kick back and enjoy the ride.