David Carradine was born in Hollywood, but was brought up all over the country; mostly by boarding school teachers and reform school wardens. He was also raised, to some extent, by his Shakespearean actor father and the deeply religious mother he revered.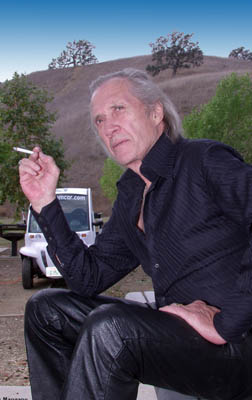 His abilities are, if nothing else, numerous. He has laid his hand to almost every phase of life. Casually, hardly trying, he manages a fair job at everything from carpentry to automotive design; from baseball to ballet. But he has given his full attention to a few chosen pursuits, and become a master at them. He has starred twice on Broadway, and performed in eleven productions of ten of Shakespeare's plays. (He's played Laertes in Hamlet twice, once with his father as Hamlet).
David has sculpted since he was four years old. His father was a serious sculptor (little known fact) who studied with Samuel Chester French, the designer of The Lincoln Monument.
It wasn't until after he graduated from Oakland High School that David gave up his plans to be an artist, in favor of writing music. Opera was the idea. At San Francisco State College, David studied music theory and composition, and took a piano seminar from Dave Brubeck, the jazz great. He supported himself working the graveyard shift as a tank hog at Lucky Lager Brewery. Down the hall, though, was the Drama Department, where Jules Irving (Amy's Father) and Dr. Herbert Blau, the duo who would later command The Lincoln Center in New York, were teaching acting.
The rest was inevitable. David started writing music for the Drama Department's annual revues and acting in one-act plays. He plunged into the local theatre scene, culminating with his own production of Othello. David produced and played Iago, while his best friend directed and played The Moor. They went broke, of course, but the job at the Brewery bailed them out. Meanwhile, David had tasted blood.
A Shakespearean Repertory in need of a juvenile gave him his first professional job as an actor. His fellow workers at the Brewery thought he was crazy to leave a union position that paid almost three hundred dollars a week for a temporary job that paid a hundred, and just when he was about to make seniority, too.
From that moment David never veered from his path. Even in the Army he managed to form a Theatre Company, with which he toured to posts throughout the '2nd Army' on the East Coast, performing in Musical Comedies, singing, tap-dancing and cracking jokes for the 82nd Airborne and others.
After his discharge David worked for a commercial art agency in New York as an illustrator while he waited for a break. After surviving a hard winter, holed up in a rent-controlled fourth-floor walkup ($32.30 a month), living on pennies with his wife and baby girl to support, he was handed a big commission by the Art House. At the same time landed a part in a play in New Jersey. He quit the Art House and took the acting job.
It took him another year to make it to Broadway, taking over the lead in The Deputy, and another year again before he captured his own Broadway opening, with his highly acclaimed performance as Atahualpa, the Emperor of The Incas (opposite Christopher Plummer as Pizzaro) in Peter Shaffer's The Royal Hunt of The Sun.
David came home to Hollywood with the TV series based on the movie Shane: the first long-haired TV Western. It was way ahead of its time. For seventeen glorious segments, though, David, as Shane, tried unsuccessfully each week to avoid a gunfight. In between, Shane bunked in Jill Ireland's stable, where he chopped wood and fixed fences for the widow, and played big brother to her small boy. Dave learned to twirl a six-shooter from former Minnesota State Champion Steve Burnette, and how to sit a horse from Dick Crow at Fat Jones' Stable. He rode the veteran movie horse "Candy", who had served Jesse James and Wyatt Earp in his time. Every week, at the end of the show, Shane would put on his leather shirt, strap on his fancy gunbelt and ride Candy into town to shoot somebody. David was 28.
After Shane was canceled it took five years of playing occasional bad guys on TV and in Westerns before David landed the lead in Martin Scorcese's first Hollywood movie, Roger Corman's Box Car Bertha, opposite Barbara Hershey.
Kung Fu followed right after. David had no desire to do another series, but everything in his life had added up perfectly to enable him to portray that character. He made the little Chinaman his Hamlet, his OEdipus Rex, his Stranger in a Strange Land. Then he left at the end of the third season, walking out with the show at the top of the ratings, to get on with his film career. In the years following he made close to a hundred films and a couple of dozen movies for TV, not to mention another series built around his Kung Fu character.
He won the Best Actor Award from the National Board of Film Review for Hal Ashby's Bound for Glory. He carried Ingmar Bergman's The Serpent's Egg, opposite Liv Ulman to international acclaim. He's played Indians, Chinese we know about, Irish, Italian; he's been a Clone, a Reincarnation, and a Ghost or two.
He's dipped into every genre, making his share of Westerns, thrillers, war movies; playing a Captain, a Major, a Colonel, a General, and a Rear Admiral. He's made several racing pictures, both cars and bikes, and he and his brother Bobby campaigned a Ferrari in endurance racing. Their car ran a contested first place at The 24 hours of Daytona in 1979. As a pilot, he became fully acrobatic for the flying movie, Cloud Dancer.
Off Broadway, he starred in a Musical, The Ballad of Johnny Pot, and played Jesus in a Black Comedy about the second coming.
On television, he's portrayed everything, from the weird gardener in The Bad Seed for ABC, and the rapist in Mia Farrows Johnny Belinda in a David Susskind Special for CBS, to the tortured artist in the CBS mini-series, Gaugin The Savage, and the legendary Tom Horn, in Mr. Horn, for NBC. In North and South, the twenty-four hour blockbuster mini-series for ABC, he again aged twenty years while he stole the show as the meanest man south of the Mason-Dixon Line.
Certainly, his most bizarre performance to date was in Sonny Boy, a cult picture on Laserdisc. He played "Pearl", an ex-con who lives out his life as a Midwestern housewife while operating a gang of thieves. The picture is sort of like Bonny and Clyde, with David playing Bonnie to Paul Smith's Clyde! David ages twenty years in the film, from a thirty-ish flirt with a Joan Crawford page-boy, to a middle-aged matron in a frosted Jane Wyman flip, to a statuesque old lady, her long silver hair drawn back and kept in a knot at the back.
David hit his peak in The Long Riders, with his brothers, Keith and Robert, ridin' n' shootin' and drinkin' n' lovin' alongside the Keach's, the Quaids and the Guests, with Walter Hill directing.
David is still at his peak, though. From the performances that play every night, for a total of a hundred and sixty-six hour-long segments, in syndication all over the world, to his current movie and music projects. Even Shane plays its seventeen episodes over and over from South Africa to Los Angeles.
He's tried his hand at directing and won the people's prize at the Cannes Festival's 'Director's Fortnight' with his Americana. Most people in the know are aware of his on-going Mata Hari, a twenty-year project starring his daughter, Calista, as the famous spy. He composed the musical score for this project: classical, with a taste of ragtime.
David's musical style can't be pinned down. His 60 Or so songs are Country, Blues, Rock, Pop, Folk, jazz; and then there's what he calls his 'Ludwig Von Carradine mode': jagged, dark piano concertos and swelling orchestra pieces, with oboes and cellos. Then a flugel horn will cut through the center, blowing a lonely cadenza that's a combination of Pappa Haydn and Earl 'Fatha' Hines. You have to hear it to believe it.
He recently completed filming in Indiana for American Reel, a movie about a country singer, in which he sings and plays his own songs. His co-stars were Mariel Hemingway and Michael Maloney. David and his brother Robert went to Nashville to record the score, working in the legendary RCA Studio B, playing with some of the modern Icons of Country Music.
Between all this, he also found time to keep up his commitment to the martial arts with six best-selling instructional videos on kung fu and Tai Chi.
Last year, he starred in Natural Selection, a black comedy about a serial killer and the detective who is obsessed with his capture (David), with his youngest brother, Michael Bowen, as the serial killer.
Following that he visited, for the first time, the Shaolin Temple in China where kung fu originated, to film the documentary: 'Shows Of Strength, David Carradine's Martial Arts adventure".
Most recently David made a rare TV guest star appearance on Profiler, for which he was recommended for an Emmy.
The next performance of David's to surface will be in the modern Western, By The Dawn's Early Light, for Showtime.
Then, there's his writing. His published autobiography, Endless Highway, isn't just a celebrity memoir, it's a chronicle of the times, from the Second World War to the assassination of Kennedy and the fall of the Berlin Wall, and beyond. It ranks as Literature. His handbook of kung fu philosophy, Spirit of Shaolin, has been a solid seller for a decade. He has three screenplays in preparation, and is working on an Irish love story and a gothic historical novel.
He doesn't sleep much.
David's Career:
97 Films +
19 Movies Of The Week/ Dramatic Specials
3 Mini-Series
625 Choreographed Fights
69 Deaths:
39 In Film
23 In T.V.
7 In Plays
2 Ghosts
1 Undead
1 Re-incarnation
5 Immortals
David's Training:
Art: Will Foster
Drama And Music: San Francisco State College
(Jules Irving - Herbert Blau - Dave Brubeck)
Voice And Piano: Judy Davis, Seth Riggs
Tap: Judy Davis
Ballet: Raoul Pausé
Acting: Justin Smith, Milton Katsellis
Dialects: Robert Easton
Fast Draw: Steve Burnette
Horsemanship: Dick Crow, Fat Jones
Fencing: Ralph Faulkner, Anthony De Longis, Jonathan Pendragon
Martial Arts: Kam Yuen, David Chow, Mike Vendrell Leo Wang, Rob Moses,
P.J. Lee Silver Gordon, Al Leong, Mike Dawson, Mike Marshall
Aerobatic Flying: Art Scholl, Tom Poperesney