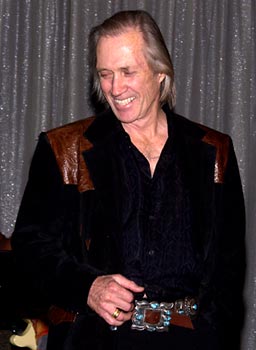 NoHo>LA
The Magazine
March 13, 2003 vol. 5 no. 14
Live Review
Rocks!
David Carradine and Soul Dogs
March 1 at the Celebrity Centre International
by Mike Malloy
Even among today's full-time, career musicians, there aren't many whose songs are so personal or original as to be instantly identifiable as that artist's music. And fewer still - drastically fewer - is the number of "actor-slash-musicians" who play music so distinct in style as to elicit, "Yup, that's so-and-so. I can always pick out his songs." I mean, I wouldn't know a Keanu Reeves or Russell Crowe song if it bit me in my inner ear.
But cult film star David Carradine, on the other hand, is a self-styled, individualistic songwriter and musician. I first heard such Carradine songs as "Paint" and "Let Me Take You Around" in such Carradine films as Sonny Boy and Americana. And seeing him at the Celebrity Centre International on March 1st in Hollywood confirmed my suspicion that there exists a "David Carradine Style" of music.
Mr. Carradine calls it "Black Country and White Blues." Perhaps the closest comparison of style is the '70s pop-folk-rock-country of J.J. Cale, Jonathan Edwards, The Eagles, and America. But these comparisons do disservice to the particular and special brand of music Carradine has developed.
Maybe it's his style of git-picking (he seems to forgo all guitar picks - flatpicks, finger picks, thumbpicks - though he hits the 5th and 6th strings with his thumb and picks with his fingers). Maybe it's his adequately tuneful and full-of-character, lived-in voice. Maybe it's the fact that these songs are all variations on what Frank Zappa might have called the "David Carradine Secret Chord Progression."
But not all the songs in his March 1st set were in this style. He opened the set with a minor-chord rocker and he picked some folk-y blues. These songs were enjoyable. Really, they were. But for this reviewer, such songs as "Paint," "And Then She Smiles," and "Let Me Take You Around" are what Carradine does best, and they constitute the Carradine style.
"Paint" - which in its recorded version on the Sonny Boy soundtrack and on Carradine's As Is disc is an unequivocal masterpiece - was given a sort of reggae treatment at the show and held up just fine. "Paint" was also reworked into a song about Carradine's friend and sometime costar, John Drew Barrymore. In the middle of the set, Carradine bellied up to a grand set of 88s and applied piano instrumentation to his David Carradine Style.
Indeed, Carradine was multi-instrumental at the show. Besides guitar and piano, he (perhaps reverting to his blind teacher character from Circle of Iron) played an ethereal number on an oversized cane flute, and he later wailed on a silver-plated mouth organ. For the pseudo-encore, he tickled the plastic synthesizer keys.
With droll banter between the actor/musician and his backing/opening band Soul Dogs, and with an introduction by his half-brother Keith (two Carradines for the price of one, at least at the March 1st show), David Carradine's live act is an entertaining showcase for a unique personality and music.
NoHo>LA www.NoHoLA.com March 13, 2003 Page 15
(Photo © Marc Mangano. A different photo appeared in the magazine.)