The Virgin Islands Daily News
December 10, 2004
David Carradine and Soul Dogs headline at Hard Rock Café
By LYDIA HARRIS
Daily News Staff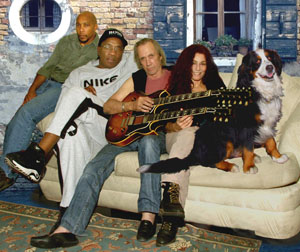 ST. THOMAS, USVI
Who knew that David Carradine is a musician? Well he is, and an accomplished one at that. Virgin Islanders who only know him as a Kung Fu master or in roles such as Bill in the "Kill Bill" movies are in for a big surprise at 9:30 tonight and Saturday at the Miller Concert Series at The Hard Rock Café on St. Thomas.
The show opens at 8 p.m. with Category 5. Doors open at 6:30.
The award-winning actor, David Carradine started sculpting when he was 4 years old. By age 7, he was taking piano lessons. When he graduated high school, he couldn't figure out if he wanted to be: a sculptor or a musician.
He didn't even think about acting until college when he was studying music theory and composition and thinking about writing opera. And, though his fame came through acting, Carradine's love affair with music never waned.
David Carradine and Soul Dogs will perform some amazing original songs, all written by Carradine himself.
"I don't do anything I didn't write," Carradine said in a Dec. 2 interview from his Los Angeles home. What Carradine writes simply cannot be categorized. "I relate to almost every kind of music," he said. Sometimes bluesy, sometimes jazzy, sometimes rock 'n' roll, Carradine also writes country, pop, folk, ragtime, a little reggae now and then and just about everything else you can think of &emdash; except rap.
Carradine considers that art form "not really music. It's commentary, poetry, a way for people to express themselves creatively without being musical," he said. "It's putting together rhyming couplets and inventing a song on the spot."
Many of Carradine's more than 60 songs have made it to the silver screen, often in the background. He also has composed movie score such as for his 1981 directorial debut, "Americana," that earned him the Director's Fortnight Award at the Cannes Film Festival.
COMPOSING PROCESS
Carradine described his composing style as "free-form." His songs may be free-form, but when he talks about the process, his years of formal study are unmistakable.
"I regard the music thing as an exploration of tonalities, harmonies. I'm examining the theories of music as I write the music. I'll have something to say and then the lyrics and music come," he said. "I improvise on the piano, making stuff up for one hour a day," he added. "In process of doing that, I'm inventing something."
Then Carradine said, "it's something like this," and he started playing. "The things I'm discovering when I'm doing that, I can get a song a out of it," he said when he finished.
Unable to find word to describe how he composes, he call it the "David Carradine secret cord progression."
In another life, he might have been a Mozart. And his own music has been influenced by such masters. But in this life, Carradine's greatest respect is for bands such as "the Beatles and Eagles, a few people like that," because of the complexity of their music.
"The Beatles message was bubble gum, but the music was very deep," he said. They picked up a lot from Bob Dylan, who had more influence than anybody on 20th century music. He put incomprehensible poetry to music. And he created folk rock."
"John Lennon was just as big a genius," Carradine added. Though his performances are pure David Carradine, when he's on his own, "I play songs on the piano and sing them" &emdash; Rodgers and Hammerstein, for example, or his version of "Somewhere Over the Rainbow," which he suggested rivals Judy Garland's.
The piano is such an integral part of Carradine's life that he carries a piano key wherever he goes. Since all piano keys are the same, he can go into any place in the world, often late at night, and play.
"Improvising on the piano is my meditation," he said.
DIVERSE MUSICIANSHIP
This multi-talented, eclectic musician &emdash; who celebrated his 68th birthday on Thursday &emdash; has continued to study music and learn new instruments all his life.
He didn't even pick up a guitar until 1967, the Summer of Love he reminded The Daily News, because he couldn't go to the Monterey Music Festival. He thought learning to play the 12-string guitar was the next best thing. And he learned to play the fiddle for his critically acclaimed role as Woody Guthrie in Hal Ashby's classic 1976 film "Bound for Glory."
Carradine's love for music is matched by his love for learning. Combine the two and you get a man who, with the addition of strings, almost could be his own orchestra. He also plays sitar, saxophone, drums, all the woodwinds, harmonica and flutes.
When asked about the show's line-up and if Carradine will play the flute, as he did in "Kill Bill 2," Soul Dog's leader Sharon Benson wrote in an e-mail, "I'm not sure if David will be playing his flute this time around. You never know though. The man is full of surprises, that's for sure! One thing I can say is that there are times that he does play his bamboo flute in concert as well as traditional silver flutes, harmonicas, piano and of course guitar."
One instrument he hasn't mastered, however, is the trumpet. Oh well.
BAND OF SOUL BROTHERS
Carradine has had numerous bands, but none of them clicked like Soul Dogs. One day, while he had some extra time before flying with Dennis Quaid to entertain troops on an aircraft carrier, Carradine stopped by the Coffee Junction in Tarzana, Calif., a suburb of Los Angels.
Not just a coffee bar, the establishment doubles as a cabaret. Co-owner considers it a musical oasis, because she gets to interact and perform with musicians of all ages and backgrounds.
Carradine heard Benson play the violin &emdash; "she's a great violinist," he said &emdash; and asked her to join his band. She responded, "I've got a band."
Carradine and Soul Dogs played together at the 2002 Avocado Festival and the connection was instant.
"I discovered that that's my band," Carradine said. "I just flipped over the music and the people. We're soul brothers."
Benson couldn't agree more. "We're like family. We know each other's sides," she said in a telephone interview. "We've traveled and lived together as a band. ... And there is no kind of ego stuff."
"The cool thing about the band is that David feel comfortable and safe with us. We all support each other. We let him take us as his band," she said.
Working with Carradine is great, Benson said. "He is one of the most generous musicians I've ever experienced. He gives every single one of us in this band freedom to express ourselves. He let's every one of us shine. He just is wonderful that way."
The single "Big Mack Truck" demonstrates the depth of Carradine's writing talent as well as an incredibly soulful voice backed by a powerful and energetic band.
SOUL DOGS
At "center of it all" is founder and band leader Benson who contributes vocals, guitar and violin to the band's flavorful country-rockin'-blues, funk and ballads seasoned with classical overtones and psychodelic spice.
With vocal trained in the classics and show tunes, Benson's influences include Tina Turner, Janis Joplin, Bonnie Raitt, Wynonna Judd, Grace Slick, and Bette Midler had a big an influence on Benson's musical theater work.
Also a stage and screen actor, she appeared in movies such as "Carrie," "Deadman's Curve," and "i Never Promised You a Rose Garden." She's also had several television roles.
On keyboard and percussion, Chris Colquhoun's other talents include acoustic guitar, dance and vocals. He joined the California Boy's Choir at age 11 and performed in numerous operas conducted by Zubin Mehta at Dorothy Chandler Pavilion. He likes collaborating with the other Soul Dogs, creating, honing and performing music that moves the body and soul. When he's not playing with the band, Colquhoun creates mechanical special effects, props and costumes for film, television and state at Applied Effects in Culver City, Calif.
Leslie Daniel adds his talents as drummer and percussionist. His first professional gig was at the tender age of 14. He has performed with Joni Mitchell, Jeff Beck, The Miles Davis Band, Jean Luc Ponty, Marvin Gaye and many others.
The Soul Dog Web site describes the band's bass player as "kind of an enigma. We don't know who he is, where he came from or what he's done; but he sure does play well." Benson admitted that's an inside joke. It seems Clynell "CJ" Jackson III likes to be secretive. Benson said he "has a real playful air about him. He's a lot of fun."
"Big Mack Truck" can be heard and downloaded from www.geocities.com/gridpiggy/bigmacktruck.html
Sponsors include Island View Mountain Side Inn and Budget Rent-a-Car.
Tickets are $25 at The Hard Rock in advance or at the door. Food and beverages will be available throughout the night.
For more information, call The Hard Rock Café at 777-5555.